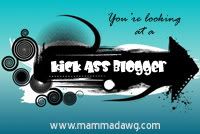 Helles Belles
gave me an award! Thanks! I am so honored!! :)
Rules:
Award this to 5 of your blogger buds
Let 'em know in your post or via email, twitter or blog comments that they've received an award
Share the love and link back to both the person who awarded you and back to http://www.mammadawg.com/2008/08/kick-ass-blogger-award.html
Hop on back to the Kick Ass Blogger Club HQ to sign Mr. Linky then pass it on (which you can also get to on the above link)
So, now who to give this award to..... Hmm.....
1 - Lola over at Lola . . . again! She is so crafty, and always has fun patterns and tutorials. I can't wait to see what she comes up with next!
2 - Scott because he always has cool videos and products and weird stuff on his blog.
3 - Jill because her stories always make me laugh. Especially the Max stories.
4 - Faith because she has such a cute family and she is so sweet to read my blog and comment.
5 - Bonnie because she makes me laugh too.