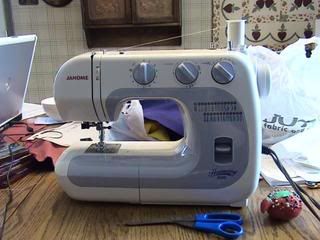 I want you all to meet my sewing buddy: Janome Harmony 2049, a Sears exclusive about 3 years ago. That's when it was given to me. I told my mom I wanted to start sewing, and she got me this beautiful machine. I was "sew" excited!
We had a really great relationship for about a year and a half. Then things started to go south. Whenever I wanted to sew, it didn't. It would do whatever it could to make sure that I got frustrated and put it away. I think it was trying to get back at me for not using it for so long, but really, if you think about it, it was its own fault!
Lately, things have been really good again with my machine. I have used it to make and bind 5 quilts in the last few months, in addition to my little angel's Halloween costume, a skirt for me, and now most of my little angel's Quiet Book.
Then, today, something went wrong. I don't know why, but my machine is being difficult to work with again. None of the settings have been changed since last night. It wasn't left on by accident again. It wasn't even put away, but left out on the table where I use it practically daily.


I finally finished the fifth page in the Quiet Book (the nest is velcro-ed on, and comes off to reveal 5 baby blue eggs), and had sewn most of the elements together for page six. All I had to do was baste the batting to my page background, and then attach the elements to the page. Then I would be off to work on pages seven and eight. It was when I began to baste that all went wrong. My machine stopped working with me, and began its vicious cycle of work-frustrate-frustrate some more-work.
If only it would cooperate with me. My goal was to finish the Quiet Book by Sunday, so that maybe, just maybe, I can sit through all of church. Well, sew much for that! There's just sew much frustration. :(