Happy Tuesday! Today is the second day of the week, but for me it feels like the first. I don't know. Maybe it's just because Mike has been working from home lately. Sometimes when he works at home, I just want to sit and do nothing because I can spend time with him, since he is on the road so much. This is most definitely the reason why I feel that I am always behind in my housework.
So, with that said, today I decided to get to work on my kitchen. I've been doing the Flylady routine off and on for a while now, and am trying as part of my New Year's resolutions to stay on more than off. This week the focus is in the kitchen. I will be the first to admit that my kitchen needs A LOT of help. But, I am proud to say that I got the clean dishes put away, the dirty dishes loaded in and started, and the counters cleaned. Then I got the brilliant idea to start dinner. I'm trying to make my family eat healthier, and what better way than to make home-cooked meals everynight! Needless to say, my clean kitchen got dirty again, and I had to start over. At least now it looks clean.
One of my other New Year's resolutions is to finish all of my many partially started craft projects. Now that Marshall is 15 months, he needs to be able to sit through church. One way I plan on achieving this is by making him a quiet book. I am almost halfway done with the pages! They are so cute, and hopefully this project will be done soon!!
This is the first page. You can play peek-a-boo with the little boy. This page took me quite a while to do because the hair is yarn, and for me, sewing it together was REALLY hard.
This is the second page. I have never sewn button holes before this. They are my new favorite thing to sew! I think my favorite part is using the seam ripper to cut in between the stitches!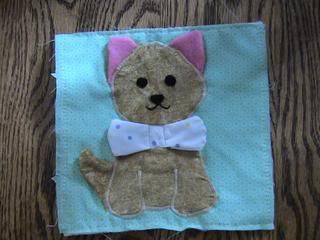 This cute little cat is page three. Now, I wouldn't have known it was a cat if the pattern hadn't told me it was a cat. To me it looks a little like my sister-in-law's dog, Fiona, with a giant bow on it! Even though I thought the first page was difficult, this page totally sucked! The pattern called for Velour to be used as the cat. I don't know what exactly I used, but it was really stretchy and really hard to work with. I'm surprised that this page actually turned out decent.
Well, that's all I have done on the book so far. I'm working on page four, an ear of corn. It requires a zipper, and I've never done one before, so we'll see how it turns out. I will definitely keep you posted!