Have you ever tried reading more than one book at a time? Recently I have been reading 10. I thought it wouldn't be too hard but: Ugh! It is a lot harder than I thought.

Back in August I started reading Stardust, by Neil Gaiman, because I wanted to see the movie. I didn't get very far. I wasn't entirely sure if I liked the book. Why should I waste my time if I didn't like it? Well, needless to say, I have purchased the book so I figure that I at least ought to finish it and give it a chance!

Then there are two books that I read off and on as parenting finds itself in need of assistance late at night. What to Expect: the Toddler Years, and Your Baby and Child: From Birth to Age Five both give excellent advice on situations that I may possibly find myself in. Example: having a dog. My mom thought that it was not particularly wise to have a dog and a baby at the same time. Well, these books backed up the fact that dogs are good for children (Lola: you can borrow my book anytime if you need to prove a point to huzz....BTW, Petersons still have a puppy! hint hint hahaha). These books haven't necessarily been read cover to cover, but are more of an ongoing read over the next several years.

I started to read Eight Cousins, by Louisa May Alcott, last fall/winter. I used to read nightly while I waited for Marshall to fall asleep. Sadly, I only read a few chapters, but I am determined to finish it!


As I mentioned in an earlier post, I will be reading the Jane Austen novels before they play out in movie form on PBS's Masterpiece Theater. Currently, I am reading two of her novels: Northanger Abby, and Persuasion. I love her work, but I can't wrap my head around her page long sentences sometimes! People just don't talk like that anymore, and it really confuses me sometimes - so much so that I have to read one sentence several times to make sense of what is going on. PLUS I have this problem where I really only want to read the dialogue, so I skip to the quotation marks, and then realize that I have NO CLUE of what is going on! Anyone else with that problem? I know you're out there, so go ahead and 'fess up! haha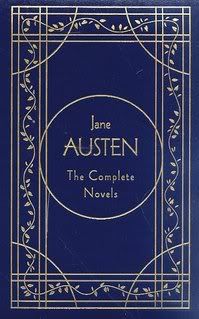 Finally we come to the last 4 books I am reading (3 of which are on order, and shipped recently). My dad is a former Financial Planner, and insisted that Mike and I read this book called the Automatic Millionaire. Well, I started it about 4 years ago, and still haven't finished. I figured I ought to read it and see what all it had to teach me. That's where my books on order come in. I will, as soon as they arrive, be reading the workbook that accompanies Automatic Millionaire, as well as Smart Women Finish Rich and Smart Couples Finish Rich. I figured that he, David Bach, might have some good advice, so why not find out?


So, never let it be said that I haven't done my share of reading. 10 at once?! I know, I'm crazy. At least maybe one of these days I'll keep all of the plots straight!! haha