I have finally finished the last page in my quiet book! Hooray! Now, all that needs to be done is to sew the backing on, sew the pages together, and sew them into the cover. Piece of cake, right? We'll see...


This is the completed page. The shoes lace up and you can unlace them and relace them. The pattern wanted just holes cut with a hole punch in the fabric, but I figured that there would need to be some sort of reinforcement or else the fabric would tear over time.

I went to Wal-mart and bought just their cheapest eyelets and a really nifty eyelet plier/tool. (Total cost: about $9 for both.) They were really easy to use too! Just cut a hole, insert one end, stick the other piece of the eyelet on, and clamp it down using the pliers. Simple!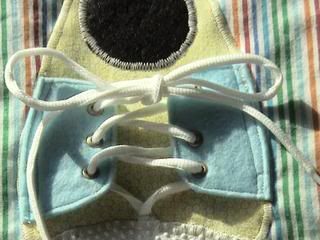 This is a close-up of the laces and my lovely eyelet job. I know, I know. The eyelets aren't evenly spaced. Hey! This is my first attempt at using eyelets, so I think I deserve a break! haha At least they do their job rather well. :)


Meanwhile:

While I finished this adorable page (it was my favorite page next to the button flowers) Marshy was chilling in the living room on his new Disney Cars fold-out couch. (These are also available at
Wal-mart
. If you can't tell by now, I LOVE Wal-mart) He loves to sit and chill-ax on his couch, because that is what Mom and Dad do! He also loves to watch the Baby Einstein movies.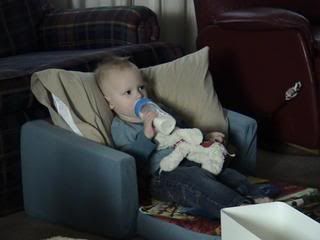 They're kind of dark because he was watching a movie with the lights off. I didn't want him to know I was taking the pictures, so I didn't flip the lights on.