Just when I think I'm done with quilts for a while, I get a surprise! Well, not really a surprise, I knew 2 of the babies were coming....I just forgot about them. My friend Taylor's baby isn't due until June. But my cousin Jean is having a baby in like 2 days.
I had started on Taylor's quilt first. Probably not the smartest thing, but that's who I started with. She is having a boy, and as soon as she told me I knew exactly which fabrics I wanted to use! My goal is to make these next few quilts using fabrics from my stash. Hopefully it works out, and all I'll need to buy is a few yards for the backing.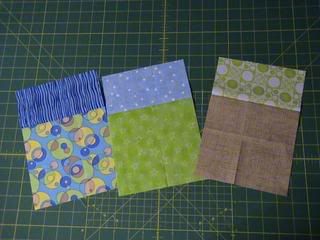 These are the colors I picked for Taylor's little boy. The green and white circle print looks like it's that yucky "puke" green, but it's really a cute bright green, a little lighter than the green with stars. I'm using the Yellow Brick Road pattern for this quilt. The borders are a really cute bright blue, the binding is a bright green, and the backing is going to be a light tan print. So much fun!
This is the tentative layout for Taylor's quilt. I have to rotate a few blocks and switch a couple out for the corner setting blocks in the border. Hopefully I can get this sewn together quickly and get cracking on my cousin's baby quilt!
Jean is having a girl, and I have the cutest prints ever!

A couple summers ago Jo-Anns was having a sale on their Quarter Flats, so I bought a lot. They were way on sale, and I think I spent almost $100 on fat quarters. Needless to say, I have a lot to choose from. I've been slowly using them up this year, but keep finding cuter fabric to buy. I have so much fabric now (probably not as much as others, but to me it is a lot!) that I need to use it before my DH Mike will let me buy more! haha
The funny thing about Jean's quilt is that during December I did a quilt for her sister Beverly, and used the same backing! Wow! Well, I don't know if this green print will be big enough for the quilt, but we'll see. I'm using a pattern out of Fons and Porter's Love of Quilting. Their January/February 2005 issue had the cutest pattern called Li'l Dude. They used cowboy fabrics, but I'm going to use cute girly prints!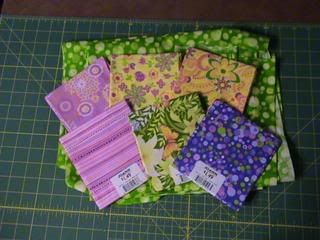 The third baby I need to make a quilt for is my aunt's Guatemalan baby. She has been trying to adopt him for about a year and a half now, I believe. She went down over the last few weeks to get him, but they were told they have to wait at least 6 more weeks!! Sound familiar, Lola? Apparently it is really hard to get the babies out of the country, and they expect their little one to be almost 2 by the time they get him home.
NOTE: My aunt has 5 grown girls. Her youngest is about a year younger than my brother, so that makes her 19, I believe. She has recently adopted a little girl. Now, my aunt, in addition to having 5 grown girls, is older than my dad, who is in his mid-fifties. Some people call my aunt crazy. I think she is brilliant! She is such a wonderful, intelligent, strong woman, and she has a lot of energy. Our thoughts and prayers are with her and we hope that she can get this little boy as soon as possible!
Anyway, I've decided to do a quilt for her, too, and am probably going to use these cute little boy fabrics: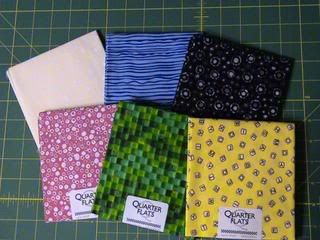 The quarter flat that looks like it is pink is really red and yellow. My dining room is not the best place to take pictures, but that is where my sewing corner is currently located. Also, the cream is actually a print, with white stars on it: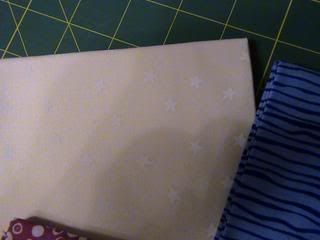 I have another quilt in the works that has bright green, orange, yellow, blue, and a dark purple in it. The pattern is a basket-weave style and would be really cute. I have to decide whether or not I want to actually do it right now, so we'll see what kind of mood I'm in. Maybe I'll do the hard quilt, maybe I'll do the easy quilt with the cute fat quarters. Who knows?! haha
So much fun fabric! I am so excited to do these quilts! Fortunately, there really is no time constraint on them, so I can take as much or as little time as I please.