YAY!! I finished the quilt top! And, I finished it minutes before the Super Bowl started on Sunday. It was the best day ever!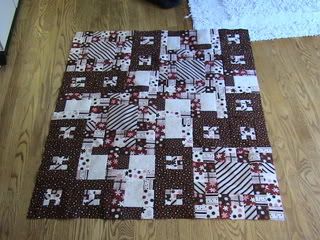 Then, yesterday, I put the quilt on the Gammil. Lola and I share the Gammil, except that I am a quilt machine hog so I use it more!
This is a picture of the Gammil.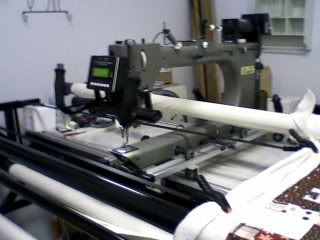 This is the quilt on the Gammil.

This is how I quilted the quilt. In the small 9 patch blocks surrounded by the brown border, I quilted a heart in the center.

In the six inch squares (diagonal print) I quilted a flower with spiraling center.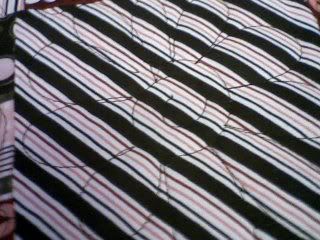 Over the rest of the quilt I just did loops. That is my favorite quilt stitch, because it is easy without looking dumb and cheap.

The fabrics I used are from the All You Need is Love collection by Deb Strain for Moda, and the Flirtations collection by Sandy Gervais for Moda. I absolutely loved these fabrics when I saw them together in the store, and knew I had to make a quilt out of them!
The pattern I used was from December's issue of McCall's Quick Quilts. The pattern was called Baby's First Christmas, and it originally used Sandy Gervais's fabrics from her Holly Jolly collection for Moda. I did this quilt in similar fabrics (my local quilt shop didn't get that fabric line in), and it was so much fun and so stinkin' cute that I used these cute girly prints instead!
Now, all I have to do is bind the quilt! I have the binding sewn together, and attached to the quilt. All I have to do is blind stitch it on. Wish me luck!